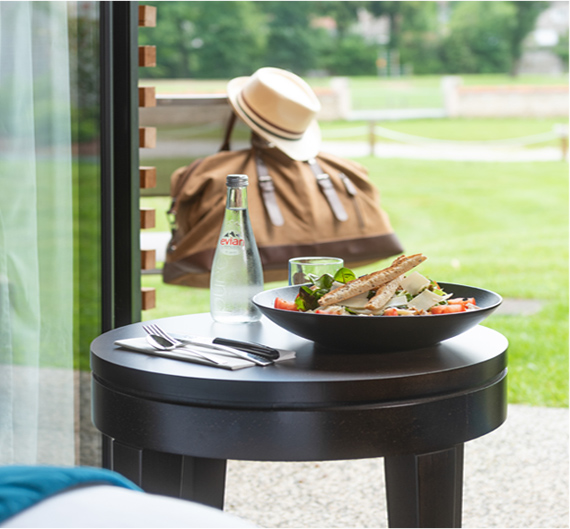 In the heart of a natural setting 15 minutes from Saint-Etienne
The Hotel Resort La Charpinière in the Forez region is the go-to destination for sporting personalities, tourists, overseas visitors and locals for a relaxing weekend, a family get-together or even a business trip. Enjoy the calm and tranquillity in one of its 57 rooms with minimalist décor, renovated by the interior designer François-Xavier Dupont (Projet D). Maria and her team are waiting to welcome you. The warm but zen-like atmosphere in a rural setting with contemporary furnishings is a haven of serenity, just a stone's throw away from the source of Badoit. All rooms have a walk-in shower, a safe and minibar. Original feature of the Domaine: scale the heights in the amazing split-level penthouse suite which has been created in the old dovecot, and sleep under a starry sky!
You will appreciate the calm a nestled setting in the heart of a wooded park of 3 hectares
Services dedicated to your wellbeing
All hotel guests have access to the heated outdoor pool from mid-April to the end of September and to the cardio room; room service is available up to 10 pm. From 7 am to 10 pm, you can eat pancakes, honey and local products in The 1933 Brasserie buffet. Breakfast can be taken in your room until mid-day. There's so much to fill your days and evenings at your own pace, whether you want to relax or be active! The 7 acres of wooded parkland surrounding the complex are an ideal spot for daydreaming in a pastoral setting or for an after-dinner stroll. Bookings can be made for services in the Form'Up spa centre: health, beauty and relaxation. With so much to do and delicious things to eat, you'll find it easy to spend a weekend in nature rejuvenating mind, body and spirit at the Domaine de La Charpinière, without stepping outside the complex! Relax or sleep, while your car charges! Free service compatible with all brands: Renault Zoe, Tesla, etc (reserved for hotel guests).